---
Cummins has a multi-purpose electric hybrid system PowerDrive Hannover International Commercial Vehicle Show debut
---
At the 2018 Hannover International Commercial Vehicle Show (IAA), the world's first advanced PowerDrive plug-in hybrid electric power system solution for light, medium and heavy duty applications. This move further expands Cummins' low-emission, low-fuel power solution. We offer our customers a diverse range of power options, including clean diesel engines, zero-emission natural gas engines and pure electric power, to meet the diverse needs of users.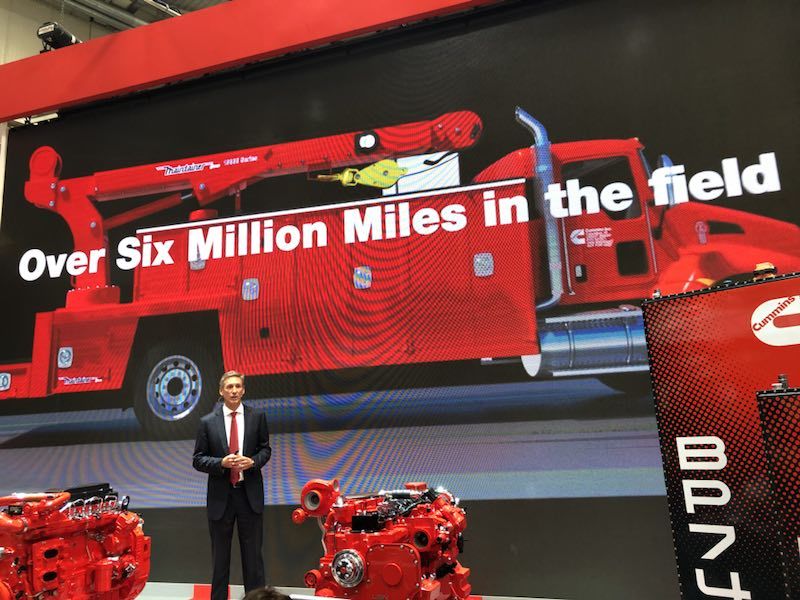 This unique hybrid system is fitted to a Kenworth T370 electric hybrid utility vehicle on display at the Cummins booth. Like most multi-purpose hybrid systems on the market today, Cummins PowerDrive systems are available in both parallel and series versions. PowerDrive replaces traditional gearboxes and switches, allowing real-time switching between two hybrid modes and two pure electric modes to optimize the drive train for optimum fuel economy in any driving situation. The vehicle is also equipped with a power quality level of the grid to charge other vehicles, and can also be configured as a rescue crane powered by electric or engine.
The fleet of Cummins PowerDrive systems has traveled more than 6 million miles (10 million kilometers) in the US and China. Cummins is working on introducing the system to the European market in the near future. The PowerDrive system is flexible and can be used with different sizes of diesel or natural gas engines and battery packs.
Julie Furber, executive director of Cummins Electric Power Division, said, "A hundred years of success, to achieve customers. Cummins once again demonstrated that we are changing the way of transportation in the future. We provide customers with the most diverse and most advanced power system solutions with comprehensive service capabilities. ".
"The Cummins PowerDrive system, with its intelligent, versatile and compact features, gives our road engine customers the flexibility to respond to different business and market needs. Cummins is now ready to offer the latest PowerDrive system through OEM partners. We look forward to exploring how to take advantage of PowerDrive's compact package and lightweight, allowing OEMs to produce plug-in electric vehicles that meet different needs without compromising vehicle performance and cruising range."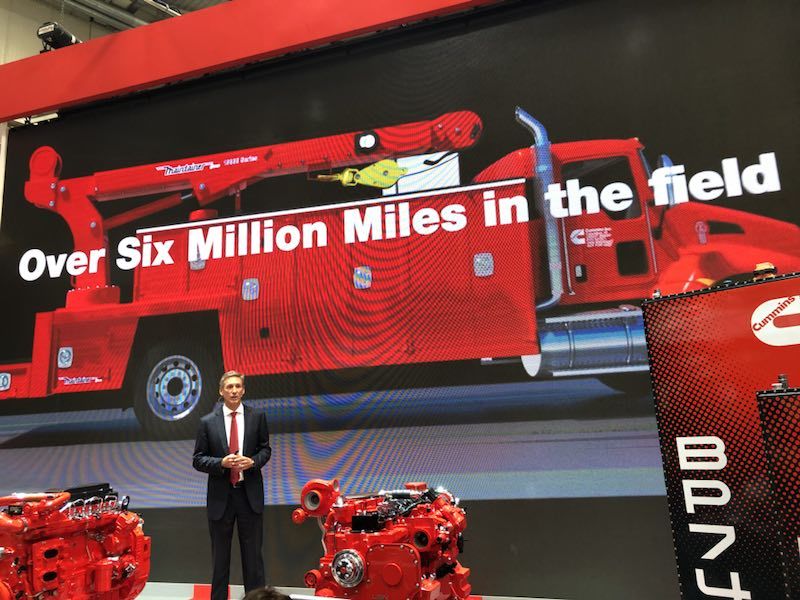 With a flexible hybrid architecture, the PowerDrive system seamlessly switches from a purely electric mode that meets the 50-mile (80-kilometer) cruising range of the most environmentally-friendly areas to a hybrid mode that requires 300 miles (480 km) of cruising range. The system can be operated in series or parallel mode. The series mode is more suitable for low-speed driving situations such as city driving (stop/start state), and the parallel mode is ideal for high-speed road driving. In the series hybrid mode, only the motor supplies power to the wheels. The motor receives power from the battery pack or engine. In the parallel hybrid mode, the engine and the motor together provide power to drive the wheels forward. When the system senses that climbing or accelerating overtaking requires more energy, a third mode, the enhanced power mode, is turned on.
Future transportation requires us to reduce emissions without compromising fuel economy and driving performance. The PowerDrive system was created to meet these needs. The Cummins PowerDrive-powered US Six-Class truck has an electric range of 50 miles (80 kilometers) and can reduce emissions by up to 80% compared to conventional vehicles. At the same time, fuel costs can be reduced by 40%-80% depending on the cycle conditions.
Introduction to electric hybrid multi-purpose truck
The Kenworth T370 is a US six-stage truck powered by the Cummins PowerDrive 6000 system and the Cummins B6.7 engine. The car weighs 33,000 pounds (15 tons). Commissioned by Cummins, this service vehicle is used to support road testing and route test drive activities for electric vehicles and plug-in hybrid vehicles. The car is equipped with three car charging piles (1 100 kW fast charging pile, 2 6.6 kW standard charging piles), which can be directly charged through the charging line for plug-in hybrid vehicles or electric vehicles that need to be charged.
Cummins in China
The historical origins of Cummins and China can be traced back to the 1940s more than half a century ago. On March 11, 1941, US President Franklin Roosevelt signed the Renting Act to provide wartime assistance to 38 countries including China. The "Lending Law" includes Chinese military patrol boats and military trucks equipped with Cummins engines.
At the end of 1944, a Chongqing company sent a letter to Cummins Inc., seeking to establish business contacts, and localized production of Cummins engines in China. At the time, Cummins Engine General Manager Elvin Miller expressed strong interest in the reply. I hope that Cummins can build a factory in China after the end of the Sino-Japanese War. For reasons that are well known, Mr. Miller's ideas can only be reached in the 1970s, 30 years later, with the gradual easing of Sino-US relations.
Cummins and its affiliates have invested more than US$1 billion in China. As a leading foreign investor in China's diesel engine industry, Cummins' business relationship with China began in 1975, when Mr. Elvin Miller, Chairman of Cummins, visited for the first time. Beijing became one of the first American entrepreneurs to seek business cooperation in China. In 1979, China and the United States established diplomatic relations. At the beginning of China's opening to the outside world, the first Cummins office in China was established in Beijing.
Cummins was one of the first Western diesel engine companies to carry out local engine production in China. In 1981, Chongqing Engine Factory began to license Cummins engines. In 1995, Cummins' first Chinese joint venture engine factory was established. In 1997, Cummins officially established a regional area in China. Headquarters, Cummins (China) Investment Co., Ltd. was established in Beijing to co-ordinate the management of Cummins' investment and business development in East Asia. So far, Cummins has a total of 29 institutions in China, including 14 joint ventures with more than 10,000 employees, producing engines, generator sets, alternators, filtration systems, turbocharging systems, aftertreatment and fuel systems. Products, Cummins' service network in China includes 16 regional service centers and more than 2,000 authorized dealers in China.
Cummins has long adhered to a strategic alliance with large Chinese companies to achieve common development. As the first foreign-funded diesel engine company to come to China for local production, Cummins has established five engine joint ventures with leading Chinese commercial vehicles including Dongfeng Motor, Shaanxi Automobile Group and Beiqi Foton for more than 40 years. Cummins 20 Fifteen of the four engine series are produced locally in China.
Cummins is the first foreign-funded diesel engine company to set up a research and development center in China. In August 2006, the engine technology research and development center established by Cummins and Dongfeng Company was officially opened in Wuhan, Hubei.
In 2017, Cummins sales in China reached US$5.56 billion. China has become Cummins' largest and fastest growing overseas market in the world.