---
Science and technology lead change, quality is brilliant, innovation drives development
---
Beijing, November 28, 2017 - Beijing Foton Cummins Engine Co., Ltd. celebrated its 10th anniversary today. At the same time, with the official launch of the X12 engine that meets the Euro 6/Country 6 technology, the company has produced a total of 1 million engines. Dong Yang, executive vice president of China Association of Automobile Manufacturers, Li Gaoshuai, secretary general of China Quality Association, Gong Yueqiong, general manager of Foton Motor, Steve Chapman, vice president of Cummins Group, and Srikanth Padmanabhan, vice president, Futian Automobile and Cummins Relevant leaders, as well as end-user representatives, industry and mainstream media, have witnessed the important historical moments of the development of Foton Cummins.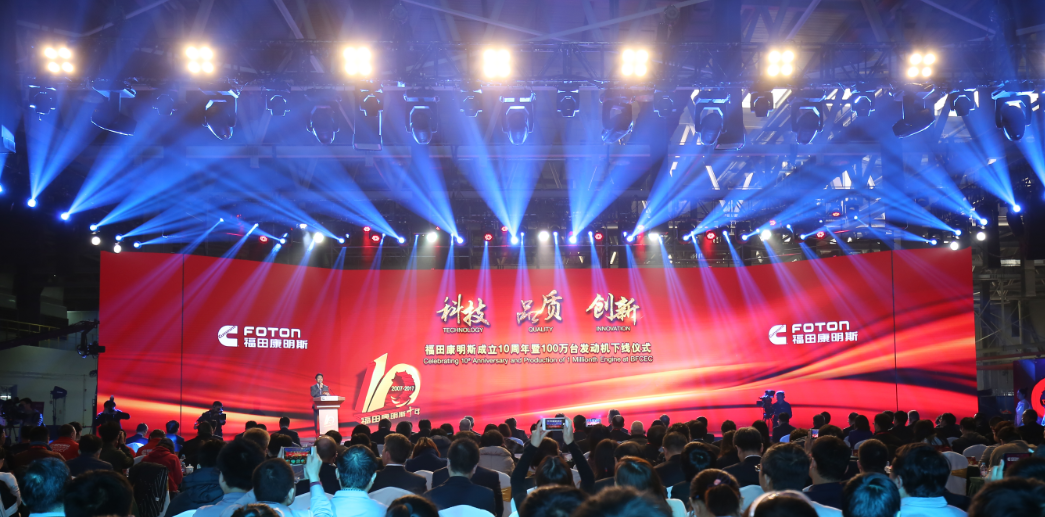 With the theme of "Technology, Quality, and Innovation", the event comprehensively reviewed the development history of Futian Cummins since its establishment ten years ago. From the pioneers of advanced light power to the pioneers of heavy-duty power innovation technology, the 10 years of development of Foton Cummins is based on innovation. With quality as the nutrient and customer demand as the guide, we have launched one phenomenon-level power products. In the future product planning, Foton Cummins will rely on Cummins and Foton Motor's high-quality resources to further develop in the field of system integration, and further breakthroughs in performance, economy, cost performance and efficiency.
On behalf of the China Association of Automobile Manufacturers, Dong Yang, executive vice president of the China Association of Automobile Manufacturers, expressed his warm congratulations on the tenth anniversary of the establishment of Futian Cummins and the 1 millionth engine off the assembly line. He stressed that Foton Cummins should deepen the implementation of the "Made in China 2025" strategy, driven by technological innovation, and guided by the development of the global market, to create more clean and efficient automotive power products and power system solutions, to grasp the development under the new normal. Opportunities and opportunities for building the "Belt and Road" will lead to leap-forward development.
Futian Automobile General Manager Gong Yueqiong congratulated Foton Cummins on its achievements in the past ten years and praised the sincere cooperation between Foton Motor and Cummins. He believes that Fukuda Cummins' ten years is a decade of successful transformation of Foton Motor: "establishing a joint venture company, signing an ISF series engine technology import agreement, from Euro 6 and LNG clean energy technology innovation projects, to signing "Green Power and Smart Trucks" Cooperative Development Project Memorandum, Foton Motor and Cummins launched a series of fruitful cooperation around green energy, which provided a strong driving force for Futian Auto's transformation and upgrading."
Tom Linebarger, chairman of Cummins Inc., spoke highly of Foton Cummins' achievements in the past 10 years of developing and achieving 1 million engines off the assembly line. He said: "All of our participants should be proud of this! This is Foton Motor Great achievements with Cummins partnership! Today we are able to provide high quality engines and high quality commercial vehicles to the market and customers, thanks to the ten years of unremitting efforts and cooperation. "The development of Foton Cummins is inseparable from customer support and Contribution of employees. At the celebration of the 10th anniversary and the millionth off-line, Foton Cummins also commended customers and employees who have made outstanding contributions to the company in the past 10 years.
Science and technology first, leading change
In 2007, the global power leader, Cummins Inc. and Beijing's leading commercial vehicle company, Beiqi Foton Motor Co., Ltd., jointly established Beijing Foton Cummins Engine Co., Ltd. in a 50:50 ratio. With an initial investment of more than 4.9 billion yuan and an annual production capacity of 520,000 units, the project will introduce Cummins' F-series 2.8-liter and 3.8-liter light, 4.5-liter medium-sized, G-series 10- and 12-liter, and X-series 12-liter heavy-duty diesel. The engine, while achieving high-efficiency and energy-saving quality, can meet the world's highest emission standards including Euro 6 and Euro IV roads and non-roads. It is used worldwide and covers a wide range of road and off-highway applications.
According to Guan Zhanghua, general manager of Foton Cummins, Foton Cummins has the world's most advanced manufacturing plant---a new intelligent digital factory built with Industry 4.0 standards, with high automation, high intelligence level, high processing precision and high environmental protection level. The characteristics, manufacturing technology and environmental protection standards have reached the international advanced level, and won a series of honors such as "high-tech enterprises", "green factories", and "two-integrated management system" evaluation certificates.
Futian Cummins adheres to the essence of Cummins' century-old technology and combines the F series, G series and X series high-end diesel engines jointly developed by the United States, Europe and China. It is one step ahead. With the full range of product advantages of China's leading commercial vehicle company, Foton Motor, Cummins' forward-looking power product technology has been fully utilized, and it has also contributed to the overall progress of the Chinese diesel and commercial vehicle industry.
Quality is heavy, casting is brilliant
According to statistics, since the first Cummins ISF3.8L product was put on the market in 2009, Foton Cummins has achieved record high sales and sales, with a compound annual growth rate of more than 30%, and accumulated products reaching 1 million units, creating a high-end diesel engine market in China. A new record. At the event, Li Gaoshuai, vice president of China Quality Association, Dong Yang, executive vice president of China Association of Automobile Manufacturers, Gong Yueqiong, general manager of Foton Motor, Steve Chapman, vice president of Cummins Group, and Srikanth Padmanabhan, vice president, jointly launched The 1 millionth engine off-line ceremony, with the large-screen time gear slowly rotating, the time spanned from 2007 to 2017, a X12 series engine that meets the Euro 6/National technology has unveiled its mystery.
Thanks to advanced product quality and environmentally friendly features, Foton Cummins' products have gone hand in hand in the Chinese market and overseas markets. At present, Foton Cummins products have been exported to more than 70 countries such as the United States, Britain, Russia, Brazil, South Korea, etc., the export volume accounts for 40% of the total sales, and the vast majority are Euro IV, Euro 5, Euro 6 and Non-Road 4 A cutting-edge product at the stage of emission levels.
The Cummins F-Series engine has a maximum power of 157 kW and a maximum torque of 760 Nm. It has the highest power, minimum volume and dry weight, the widest peak torque output range, and the highest attendance rate in its class. And efficiency. Since its inception, the cumulative sales volume has exceeded 800,000 units. It is the first light-duty diesel engine to achieve 20,000 kilometers of maintenance. Many users have achieved 1 million kilometers without overhaul, and the maximum no overhaul mileage has exceeded 1.2 million kilometers. It has become the flagship brand of high-end light diesel power in the world, and is equipped with many domestic and foreign mainstream commercial vehicle brands such as Futian, Jianghuai, and Zhongqi, as well as Volkswagen, GAZ, PACAAR, and Hyundai.
Since its launch in 2014, the Cummins G-Series engine has created a number of heavy-duty engine myths with eight technological breakthroughs, directly driving the revolution in China's heavy-duty engine technology. Its 100,000-kilometer maintenance cycle, high-powered compression brakes, ultra-high-pressure fuel injection, intelligent speed control and other technologies quickly became the benchmark for high-end heavy-duty power. The first year of production and sales exceeded 50,000 units and also created new products for heavy-duty engines. A record.
The Cummins X-Series engine is Cummins' latest global heavy-duty power platform. The X12 engine debuted at the International Commercial Vehicle Show in Hannover, Germany in 2016. It has excellent low-speed high horsepower (2300 Nm at 1000 rpm) and engine compression braking capability (400 hp). The Cummins X12 engine was produced in 2010 at Foton Cummins, using a number of innovative technologies, including ADEPT intelligent assisted driving, Connected Diagnostic remote service, ISOPOD turbo technology, Leakless fuel system pressure maintaining technology, etc., intelligent, efficient, fuel-efficient, Reliable and other characteristics. Cummins G/X series heavy-duty engines are also widely used in Auman heavy-duty trucks, Jianghuai and Liuqi.
Innovation-based, driving development
At the event, Cummins China engine chief engineer Steve Saxby looked forward to the future product planning – the F series of 4.5 liters, the new X series will become a breakthrough point to win new markets. He introduced that Foton Cummins will rely on Cummins' global resources to accelerate the global layout and open up new commercial vehicle markets in Europe and South America. At present, F, G, X series engines have 219 technical patents, Cummins and Foton Motor will once again invest 500 million yuan to build the Futian Cummins Engineering Technology Center, which will improve the engineering testing capability, mechanical development capability and application engineering of the joint venture company. Ability is of great importance. At the same time, Foton Cummins will also rely on the advantages of the two major shareholders of Foton Motor and Cummins in big data and Internet of Things to provide more accurate service support for customers.